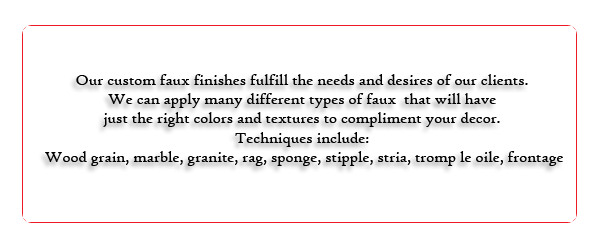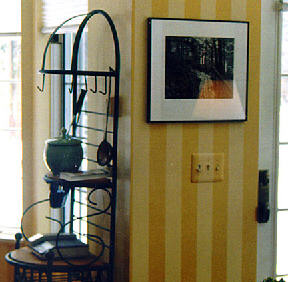 The stripes on these walls look almost like wallpaper, but they were painted on between taped edges to insure straight lines. The advantage of painting on stripes is that you can use custom colors, and you don't have to worry about seams coming loose or showing.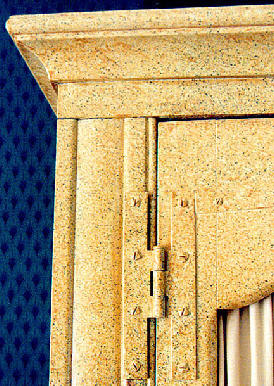 This vintage wardrobe was too fragile to strip and refinish, so we painted a base coat on it and splattered it with three colors of small flecks. It stands out nicely against the dark green wallpaper in the bedroom.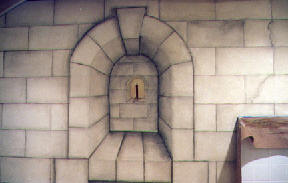 In this bathroom we did a tromp le oile castle block with a variety of glazes. The window design "show through" to another hall with a hand painted candle and holder. The bottom right corner shows some masking paper around the tile of the tub that we hadn't yet removed.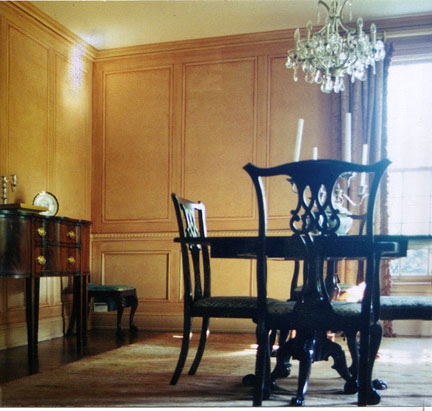 In this formal dining room, we did a tromp le oile of the existing wood paneling on the bottom of the room. The insets on the panels were ragged softly, the wood straps were striated, The doorways and chair rail were stippled - all with the same soft rose glaze over a cream base. The picture molds and shadowing on the top two-thirds of the wall were had painted to approximate the real wood panels on the lower third.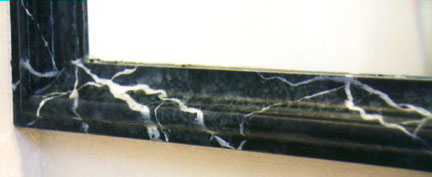 On this mirror frame we applied a faux marble finish. The base is a green and black combination with white crack lines over all. It is protected by a clear gloss urethane that simulates a polished marble look.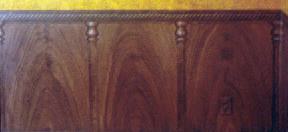 In this dining room the customer had some crotch mahogany furniture. We designed this tromp le oile wainscoting to match the detail of that furniture. The crotch mahogany panels were done with specialty graining tools and glaze. For the roped chair rail we designed a template to duplicate part of the furniture and hand painted shadows and highlights to fool the eye. The strapping pieces were designed to look like the legs of the furniture; the shadowing and highlights were again added by hand. Just above the chair rail you can see a little of the wall that was ragged in a warm earth tone to finish the room.