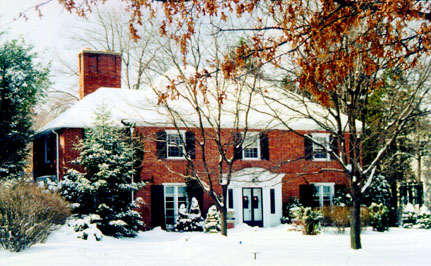 This beautiful home on Plymouth SE in East Grand Rapids is typical of many of the homes we work on. We painted virtually every room on the interior and also stripped much of the exterior paint prior to restoring and painting. Restoring old homes to their original condition by reconditioning windows and doors so they work the way did when the house was built, and smoothing the woodwork to look near new is some of our favorite work.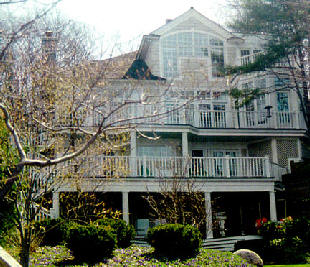 This new home on the Lake Michigan Shore has approximately 8,000 square feet of living space. We did all the original painting both inside and out on this house built by Scott Christopher. We do about three new homes during a calendar year.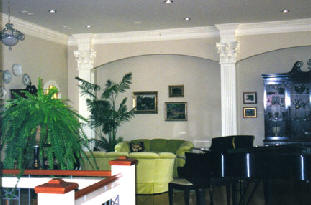 This showcase living room area is part of the interior of a new house we painted in 2000. The ornate columns and the cherry finished railing caps and banisters stand out nicely again the expanse of this large living room.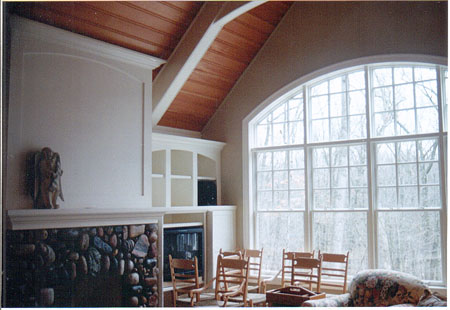 This large house in Ada, MI has the feel of a lodge. We painted the interior when new and hung wallpaper. The trims are all sprayed alkyd satin finish. The cross cut fir on the ceiling was softly stained and finished with satin precatalyzed lacquer.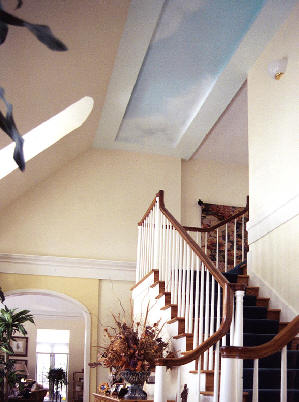 This large entry area was finished by our crew when this East Grand Rapids home was built. The recessed ceiling area was painted sky blue and soft clouds were added by spraying a variety of colors over the blue. The hand rail was stained a dark mahogany and finished with a gloss urethane.